Email support by Waitrose customer service email @ customerserviceteam@waitrose.co.uk
Average reply time: (12 hours)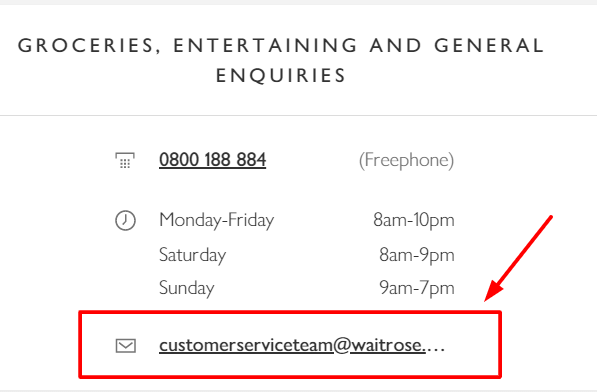 Why do customers write email to Waitrose
Update account details
Refund
Return
Payments
Online Order
Cancel Order
Late Delivery
Damage Item
Send an email to customer support at customerserviceteam@waitrose.co.uk . Compose an email that includes all of the important information, such as an online order, track an order,  delivery information and your contact information. Explain the issue in as much detail as possible and wait for a response from Waitrose customer service.
As an alternative, you can email Waitrose at one of the support email address given below. To make process simple, fast and efficient, it might be helpful if you included sufficient information in your email address to let them verify your identity, including your present address, order details, date of birth, phone details etc.
Customer Service: customerserviceteam@waitrose.co.uk
Waitrose cellar: waitrosecellar@waitrose.co.uk
Waitrose Pet: customerservices@waitrosepet.com
Garden: customerservices@waitrosegarden.com
Waitrose Customer Email Support
Contacting Waitrose – by Email or otherwise
Even though customerserviceteam@waitrose.co.uk is Waitrose 's best email, you will find 6 complete ways of getting in contact with them. Apart from email, the upcoming favorite alternative for customers searching for assistance is through Phone number support for Waitrose . If you feel this information is wrong or know of other ways to get www.waitrose.com, please let us know so we can discuss with other consumers.
Waitrose Head Office Contact Number
1. Corporate Head office address of Waitros
Doncastle Rd, Bracknell RG12 8YA
For any general inquiries, please contact Waitros head office number:01344 424680
2. Waitrose Bracknell Head Office
The Waitrose Bracknell Address: Bond Way, Bracknell, Berkshire,  RG12 1RQ
Waitrose Bracknell Head Office phone number: 01344 862374
People also ask
Does Waitrose have good customer service?
Waitrose & Partners, part of the John Lewis Partnership, is one of the best-loved brands in the UK. Dedicated to offering quality, value and sustainably sourced products combined with unrivalled high standards of customer service.
How do I change my email address on Waitrose?
Visit waitrose.com and access your 'My Account' area at the top of the page. Within the 'My details' section, select 'Addresses'. From here you can check and update your address details.
How do I cancel my Waitrose account?
Please contact the Waitrose & Partners Customer Care Team on 0800 188 881 or by email to customerserviceteam@waitrose.co.uk with any queries and follow the process set out in in the "Cancellation rights" section above.
Is Waitrose owned by John Lewis?
The John Lewis Partnership is the UK's largest employee owned business and parent company of our two cherished retail brands – John Lewis and Waitrose, which are owned in Trust by 80,000 Partners.
Is myWaitrose card free?
Loyal customers can enjoy the many benefits of a Waitrose card for free. Signing up for the card is easy and you can choose between a physical and digital card that will get you personalised vouchers, cashbacks, exclusive savings and other discounts.
Waitrose Customer Reviews
Average rating:
1 reviews
Nov 5, 2022
Drinks biscuits, parmesan, toasted pine nuts and basil. Soft od tasting and seriously bad value for £2.50. Bought them to see if they were interesting. Ugh.
Waitrose, what were you thinking about stocking these grim, expensively packaged rubbish. Expect better from a 'great taste' medallion.
More Ways to Contact Waitrose
All Contacts of  Waitrose
Waitrose Phone Number
Waitrose Customer Service
Social Media support of Waitrose
Waitrose Help Pages