MS Amlin Phone number helpline is available for existing and non existing consumers to get support. You can get personalized help and see your recent orders.
MS Amlin Contact Number
+44 (0)20 7746 1000 – Customer Service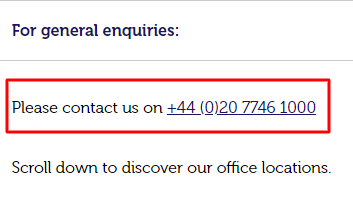 Call MS Amlin phone number is one of the best ways to contact MS Amlin, Also this is easy, fast and you will speak with a customer care executive in just a few seconds.
You can reach MS Amlin customer support by calling +44 (0)20 7746 1000 number directly. You can contact during working hours Monday to Friday: 9:00 am – 5:30 pm.
MS Amlin Contact/Phone Numbers
MS Amlin's Best Toll-Free/800 Customer Service Phone Number
Call +44 (0)20 7746 1000
This is MS Amlin's Finest phone number since the real time present wait on hold and resources such as bypassing right through those telephone lines to get directly into a MS Amlin agent. You can use this number for various tasks such as
Insurance
Reinsurance Claims
UK broker enquiries
Claims enquiries
Complaints
MS Amlin Head Office Contact Number
Corporate Head office address of MS Amlin Limited.

122 Leadenhall Street, London EC3V 4AG
For any general inquiries, please contact MS Amlin head office number : +44 (0)20 7746 1000
General Problems that MS Amlin Customers Reports
What do MS Amlin do?
How do I contact to MS Amlin?
Can I contact you via live chat?
How do I complain to MS Amlin?
Claims Enquiries
If you have any questions about claim, call on their Claims enquiries helpline number on +44 01245 396396 or using the details stated within your policy documentation.
If you are unable to source your Policy details and require immediate support please call their Emergency out of office number 0344 856 2131 where an MS Amlin representative will provide guidance and assistance.
To get more information about MS Amlin Claims department visit their Claim department webpage.
MS Amlin Complaints Department
Phone MS Amlin to make a complaint by calling their customer service contact number 0203 451 2699. Simply provide your information at MS Amlin Complaint department and one of their experts will be connected. You can also use below methods for make a complaint:
Write to MS Amlin:
Complaints Manager
MS Amlin
The Leadenhall Building
122 Leadenhall Street
London, UK, EC3V 4AG
E-mail: AUL.complaints@msamlin.com
If you want to get more information regarding this department to visit on complaint department webpage.
Hopefully, We helped you to get some genuine records of MS Amlin phone number to directly contact MS Amlin customer service department.
MS Amlin Customer Reviews
More Ways to Contact MS Amlin
All Contacts of MS Amlin
MS Amlin Customer Service
Email Support of MS Amlin
Social Media support of MS Amlin
MS Amlin Help Pages