Email support by DFS customer service email @ [email protected].
Average reply time: (12 hours)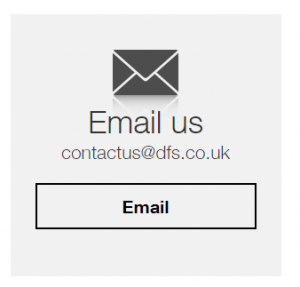 Why do customers write email to DFS
Update account details
Track an Order
Delivery
Return
Refund
Payments
Security
Complaint
Send an email to customer support at [email protected]. Compose an email that includes all of the important information, such as a finance, track an order, return and your contact information. Explain the issue in as much detail as possible and wait for a response from DFS customer service.
As an alternative, you can email DFS at one of the support email addresses given below. To make process simple, fast and efficient, it might be helpful if you included sufficient information in your email address to let them verify your identity, including your present address, order details, date of birth, phone details etc.
Customer Service: [email protected]
DFS Customer Email Support
Contacting DFS – by Email or otherwise
Even though [email protected] is DFS 's best email, you will find 6 complete ways of getting in contact with them. Apart from email, the upcoming favorite alternative for customers searching for assistance is through Phone number support for DFS . If you feel this information is wrong or know of other ways to get www.dfs.co.uk, please let us know so we can discuss with other consumers.
DFS Head Office Contact Number
Corporate Head office address of DFS Limited.

Rockingham Way, 1, Adwick le Street, Doncaster DN6 7NA
For any general inquiries, please contact DFS head office number: 0130 257 3200
DFS Customer Reviews
Average rating:
3 reviews
Jan 10, 2022
Have been trying to speak with somebody regarding an armchair. I've left my telephone number twice ,to phone me back,with no jot.it's taken me three days and still not been able to talk with anybody. Plus. you end up sitting on the phone for ages and ages, however do they manage to do business. .
Jan 10, 2022
Disgusted at the treatment i have recieved
Jan 10, 2022
I had 5 dates that my sofa was coming and they just keep changing the date. I have tried to talk to the shop and all i get is they are going to call me even off the manager and they dont call and you would be waiting well over 14 wks, I wouldnt go to them if i know all this and i wouldnt recommend them to anyone . I'm a disable lady with no sofa and is sitting on a bean bag and they dont care about their customers
More Ways to Contact DFS
DFS Customer Service
DFS Phone Number
All contacts DFS
DFS Help Desk
Contact DFS on Social Media
DFS Live Chat